This is a favorite winter meal. Everybody I have made it for returns for seconds. It is filling and thick with veggies including sweet potatoes which gives it a wonderful flavor.

This recipe was adapted from Carolina Vegetable Soup Moosewood Restaurant New Classics – one of my favorite cookbooks ever.
California – Veggie – Chicken Stew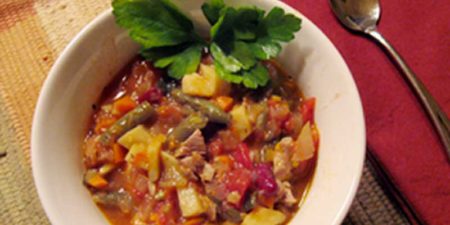 Ingredients
3 tbsp. olive oil
2 cups chopped onion
3 garlic cloves, minced or pressed
1 cup peeled and chopped carrots (diced)
1 cup peeled and cubed sweet potatoes
1/2 cup chopped celery (diced)
1-1/2 cup chopped fresh green beans (cut into about 1 " pieces)
1-16 oz can red kidney beans
1-28 oz can stewed or diced tomatoes
1-32 oz chicken broth
1/2 tbsp. ground black pepper
1 tbsp thyme
2 tbsp. chopped parsley (optional)
2-3 tbsp. chopped fresh basil (optional)
Instructions
In a large soup pot, warm the oil on medium heat and sauté the onions and garlic until the onions are translucent, about 10 minutes. Add the carrots, sweet potatoes, and celery and sauté for 3 minutes. Add the green beans, red kidney beans, stewed tomatoes and thyme.
NOTE: I typically dice the carrots, sweet potatoes and celery into large chunks and then use my food chopper to really dice the veggies small so you get a wonderful mouthful of everything in each bite!
Stir for a minute and then add the chicken broth and black pepper.
Cover and bring to a boil then reduce the heat to low and cook for 30-40 minutes (until the sweet potatoes and green beans are soft. Sprinkle the basil over the top prior to serving.
Notes
Optional – chicken I use 2 chicken breasts or 3-4 chicken thighs. Simmer for about 20-25 min. Cool a little then cut up and add to soup. I also add chopped cabbage and any other veggies that I have around that sounds good. Enjoy!
Copyright Altered-Recipes