Vintage 1950 from my Betty Crocker's Picture Cook Book of the same age…a timeless favorite! I came across this cook book when I was browsing in a used book store a few years ago. I loved it! I finally had a cookbook like the one my mom cooked from! I was able to then find the recipe that was made year after year during the Christmas holidays, and was both my dad and my favorite: A chocolate cake-like cookie with chocolate frosting.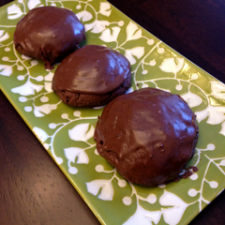 Chocolate Cream Drop Cookies
Ingredients
1/2 cup soft organic shortening
1-1/2 cups organic sugar
2 eggs
1 cup thick sour cream (may want to try a substitute: Greek Yogurt)
1 tsp. vanilla
2-2/3 cups flour
1/2 tsp. soda
1/2 tsp. baking powder
1/2 tsp. salt
2 sq. unsweetened chocolate (2 oz.) melted
1 cup chopped nuts (walnuts or pecans)
Instructions
Preheat oven: 400 degrees
Mix together thoroughly: shortening, sugar and eggs
Stir in: sour cream, vanilla and melted chocolate
Sift together flour, soda, baking powder and salt and then add to the other ingredients.
Add nuts if you desire
Mix well
Put mixing bowl with dough in the refrigerator and chill at least 1 hour. This makes the dough stiffer, not so sticky.
Drop rounded teaspoonfuls about 2" apart. (An ice cream scoop works well for scooping batter as well.)
Bake until delicately browned, just until, when touched lightly with finger, almost no imprint remains.
Cool on a baking rack. Ice with chocolate frosting - see recipe below.
Notes
I love these cookies frosted! Chocolate Icing: Melt together over hot water 1 tbsp. butter and 1 sq. unsweetened chocolate (1 oz.), melted. Stir in 3 Tbsp. milk, and 1-1/2 cups sifted confectioners' sugar. (Sifting eliminates bumpy frosting.) Thin with cream to make glossy and easy to spread. Amount: Icing for about 30 cookies. Prep time is a bit long because of the need to wait for the dough to cool in the refrigerator and later the wait to frost the cookies until they are cool. It is well worth the time and effort!
Copyright Altered-Recipes
For this recipe use the the Old-Fashioned Sour Cream Drop – which is the "key" – recipe and then follow the Chocolate Cream Drops paragraph to make this wonderful old time favorite.
(Click on the page image below for a printable PDF file of the original.)