No one will ever guess the main ingredient of this extremely healthy chocolate pudding: avocados! Even those that don't enjoy the taste or texture of avos they will love this recipe. Don't tell anyone and they'd never guess. This is an absolute favorite in our house. I make a double recipe every time.
This recipe is from the Chia Seeds" Bursting with Energy" recipe book by Lani Rosetta, also author of "Lose Weight with Live Foods." She makes a thickener for this recipe with chia seeds, but we think the pudding is always thick enough without.

Extreme Chocolate Pudding Surprise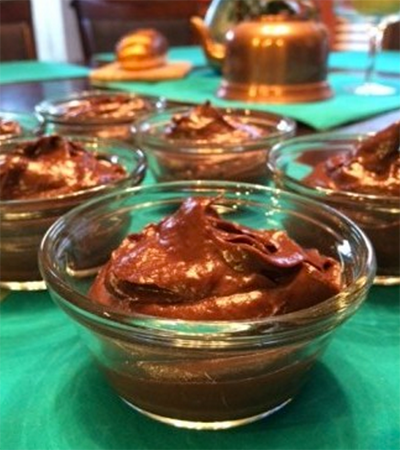 Ingredients
1/2 cup organic agave nectar
1/2 cup organic maple syrup
1/2 organic, unsweetened cocoa powder (not raw)
1 tbsp plus 1 tsp vanilla extract
1/2 tsp cinnamon
scant 1/2 tsp salt
3 peeled and pitted avocados
Instructions
Using a food processor, add ingredients except the avocados. Process until smooth.
Add the avocados to the mixture and blend until it is a silky texture. Do not over process.
If too thick add just a tiny bit of water.
Refrigerate for 4 hours before serving.
Garnish with fresh berries, mint leaves, raw pistachios, etc.
Pudding keeps 3 days in the refrigerator and a lot longer if frozen.
If freezing, add less water for a chocolate sauce and no water for a fudge-like candy.
Copyright Altered-Recipes