I came across a recipe I made over 25 plus years ago that my kids really enjoyed! I can't name anyone I made this for that didn't really liked too! I can't tell you where I may have found this recipe. I had handwritten it on a card and my memory has no recollection as to where I found this recipe. Most likely from a magazine. ~ Nancy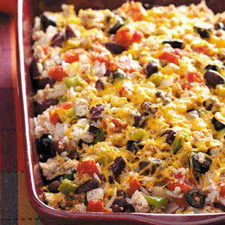 Ingredients
1-1/2 - 2 lbs. lean ground beef or ground turkey
1 medium onion
2 Tbsp. olive oil
1-16 oz. can kidney beans
1-16 oz. can stewed tomatoes
1 package corn chips
Longhorn cheddar cheese, shredded
1 pkg Chili-O (or other chili brand) mix
1-16 oz. can olives, chopped
1-small can corn (approximately 7 oz)
1- 9 oz. tomato sauce (optional)
2-4 Tbsp. Chili salsa (to taste)
Salt - 1 tsp.
Pepper 1/2 tsp.
Instructions
Preheat oven: 350°
Sauté onion in olive oil. (OK to use butter).
Brown hamburger.
Combine with onion.
Add kidney beans, corn, tomatoes, tomato sauce, chili mix, olives, salt, pepper and chili salsa.
In a 12" x 9-1/2" casserole dish put a layer of chips, layer of hamburger mix, layer of cheese, etc.
Top with cheese and a few chips.
Bake uncovered for 25-35 minutes until hot and bubbling.
Copyright Altered-Recipes