This no-fat, pumpkin muffin recipe is not a simple recipe and can take a little bit of extra time…BUT well worth it!
I shared with my neighbors and they said they were "the best muffins they have ever had!" Now that was a compliment!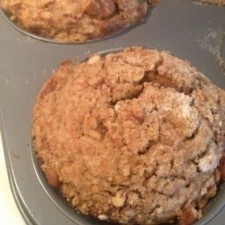 My husband loves them and I have to admit, they are my favorite – flavorful, with a little crunchy sweet and nutty topping and beautiful looking muffins to serve to family and friends.
Pumpkin-Blueberry-Nut Muffins
Ingredients
1-2/3 cup all-purpose flour (substitute = 2/3 cup flour and 1 cup almond flour)
1 tsp baking soda
1/2 tsp baking powder
1/2 tsp salt
1 tsp ground cinnamon
1/2 tsp salt
1 tsp ground cinnamon
1/2 tsp ground allspice
1 cup Solid Pack Pumpkin
1/4 cup undiluted evaporated milk (substitute with 1/4 cup plain or vanilla yogurt)
1/2 cup shortening (or substitute with 1/2 cup applesauce)
1 cup packed light brown sugar
1 egg
1 cup blueberries
1 cup chopped walnuts or pecans
1 tbsp all-purpose flour
Streusel Topping (recipe below)
Instructions
In a large bowl, combine 1-2/3 cup flour, baking soda, baking powder, salt, cinnamon, and allspice; set aside.
In small bowl, blend pumpkin and evaporated milk. In large mixer bowl, cream shortening and sugar. Add egg; beat until fluffy. Alternately add flour and pumpkin mixtures to shortening mixture; beat well after each addition.
Add nuts.
Combine blueberries and 1 tablespoon flour. Gently stir into batter.
Spoon batter into 18 greased or paper lined muffin cups, filling 1/2 full.
Sprinkle with Streusel topping.
Streusel Topping:

In small bowl, combine 2 tbsp all-purpose flour, 2 tbsp granulated sugar, and 1/2 tsp ground cinnamon. Using a pastry blender or 2 knives, cut in 1 tbsp butter until mixture is crumbly.
Copyright Altered-Recipes
Save money and order blanched almond flour at the Honeyville Farms on-line store.