A quick and easy to prepare, flavorful salsa recipe that everyone will love! Señor Harvey (my brother) showed Bruce how easy it was to make it and now Bruce makes salsa at least once a week!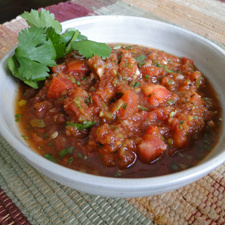 Easy Salsa with Señor Harv
Ingredients
3 - 15 oz cans diced fire roasted tomatoes
1/2 bunch fresh cilantro, chopped (take major stem pieces off)
1-3 fresh jalapeños slightly chopped (amount depends on heat desired)
1/2 white or sweet onion, diced
3 cloves of garlic - chopped
1 Tbsp. white vinegar
(Optional secret ingredient: add 1/2 to 3/4 cup of a Ragu type marinara sauce)
Instructions
Pour 2 cans of the diced tomatoes into a Food Processor. If there is room add the 3rd can of diced tomatoes at this time IF there is not enough room in your food processor stir this can in after the blended ingredients are poured into your main bowl. Add the vinegar, diced garlic and onion. Cut the jalapeños into smaller chunks and add to the mixture. If you do not want really HOT salsa take the seeds out of the jalapeño(s). Pulse intermittently to get desired consistency. Add 1/2 bunch of cilantro and briefly pulse again.
Cover and put into the refrigerator for a couple hours - or if eager to try - you can eat right away!
Note: Harvey used 3 jalapeños, seeds and all and the salsa was mild; I used the same amount and it was hot. You will need to alter your recipe and play with the heat. Have fun and enjoy!
Copyright Altered-Recipes
***This is the Cuisinart Power Pro Plus 14-Cup Food Processor (in Chrome) I have. I love it.