Dairy free, this soup is tasty and satisfying!
Bruce came home from a potluck one night – one that I couldn't attend. He raved about his friend Alfred's soup. I made it and it is superb! I hope your family and friends enjoy this recipe as much as we did.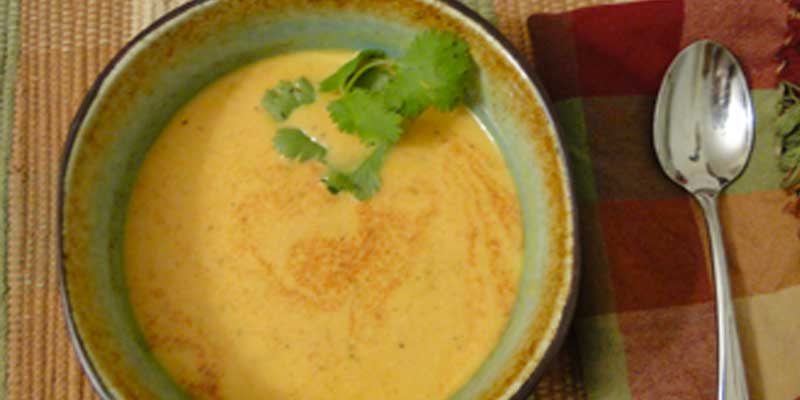 Ingredients
1 cube of butter (for "dairy free" use Earth Balance Soy Free Buttery Spread)
1 onion chopped
3 carrots peeled and shredded
1 stalk of celery with leaves, chopped (2 if you wish)
3 yams
4 sprigs of fresh chopped cilantro
6 cups of Pacific brand organic free chicken broth
1 - 1/2 cups half & half ( for "dairy-free" use original coconut milk creamer)
Fresh ground pepper to taste
1 tsp ginger
Paprika to taste
Salt to taste (though chicken broth is 24% sodium so I left salt out)
Instructions
Bake yams in skins at 400° until soft (about 50 minutes).
Melt the butter in a large pot, add onion, carrots, and celery - cook for 15 minutes stirring occasionally.
Scoop out yam meat and place in pot along with cilantro.
Pour in broth and cook for about twenty minutes at simmer - stirring occasionally.
Using a 2 cup pitcher or similar size ladle soup contents into blender (or food processor) filling no more than 2/3 at a time. Blend then put the puree into a second large pot (your ultimate serving pot).
Repeat process until all of soup is blended.
Stir in cream, add salt, pepper, ginger and paprika and reheat without boiling. Serve hot with bread or crackers.
Notes
"Serves ONE!," writes Alfred. Actually serves about 6 + depending on appetite.
Copyright Altered-Recipes
Love, Laughter, Peace & Great Eating Everyday
♥ Nancy
Note: Once again I suggest using organic produce and ingredients as well as buying from your local farmers. I made the dairy free version for our friends and it was amazing!